The healthcare industry is in urgent need of quality phlebotomists. Thanks to advancements in medical technology, lab equipment, etc., medical facilities are constantly on the lookout for well-trained employees to fill up their open positions. But, where can a phlebotomist work?
Chances are, you've had blood taken. And, there's an even better chance that it was a phlebotomist that drew that blood for you, and made sure it found its way to a medical lab. Have you ever considered that you might like a career doing something like that?
Well, it's a good time to look at phlebotomy as a career option. Most people tend to think that they only work in hospitals, but there are many more opportunities for career entry and growth. Hospitals are just one place where one can work, and now, we'll take a closer look at some other options.
Where Can a Phlebotomist Work?
Small Clinics & Private Practices
Even the smallest clinics and private practices hire phlebotomists on occasion to fill their needs. Many small practices will only have one or two physicians on staff, and one or two nurses or medical assistants to help them. Unless those assistants have been properly trained in phlebotomy (gone through the training course and certification process), they are legally not able to perform the specific duties of a phlebotomist.
So, it can sometimes be necessary to bring a phlebotomist into smaller practices if the demand is high enough. The phlebotomist can either work with an on-site lab, if available, or transport the blood drawn on any given day to a professional medical lab.
Hospitals
Of course, the most commonly-thought of place for phlebotomists to work is a hospital. Most hospitals will have several on staff, and when you're just starting out your career, you may have several options when it comes to working in a busy hospital. These can include:
Internships – As soon as you finish your phlebotomy training, if you're having a tough time finding a job, it can be to your benefit to consider an internship at a local hospital. Chances are, they'll have openings, and will be willing to take you on in an unpaid position. You'll be working underneath the phlebotomy team, but it's a great way to get hands-on experience and learn the procedures of that particular hospital. Plus, after a period of time, you're likely to get hired on as a full staff member.
Phlebotomist – You may work under a supervisor for a month or so before being 'let loose' on your own. At this point, however, you can consider yourself a phlebotomist for that particular hospital. Expect to travel to different floors, and be aware of your surroundings. Hospitals can be overwhelming, fast-moving places, and it's something you need to prepare yourself for.
Phlebotomy Supervisor – If you'd like to continue your advancement in the medical career, you can eventually become a supervisor, where you would be in charge of the entire staff.
Emergency Clinics
Emergency clinics can be a great place for you to get started. Most emergency facilities are open 24-hours a day, and people will come in for (typically) non-life threatening injuries, but something serious enough that they feel the need to get checked out by a medical professional. This means that you'll likely be busy most of the time working in a place like this.
The one drawback to working in a 24-hour clinic is that you have to follow those hours, as well. You may be on a certain shift sometimes that isn't ideal for you, so take that into consideration before applying to a place like this.
Nursing Homes & Assisted Living Communities
Most assisted living communities and nursing homes alike have some kind of medical staff either on-site, or on call at all times, so if there are ever any issues with one of their residents, they can be taken care of immediately.
Oftentimes, seniors will need their blood drawn for various reasons, whether they're experiencing a medical issue of some kind, or if its standard 'upkeep' for an existing condition. For this reason, as a part of the medical team in most nursing homes, there will be a certified phlebotomist.
This can be a very rewarding place to do your work, and offers a more consistent basis of work every single day. You may end up seeing some of the same people more frequently, and it may be a slower-paced position, which can be a great contrast for someone who doesn't feel as though they'd do well in a busy hospital environment.
Freelance Phlebotomy Technician
One of the big perks people often find when it comes to phlebotomy is that it's usually a flexible job. This is partly due to the number of people who want the job and the careers being plentifully filled. But, some doctor's offices and even hospitals carry regular hours for their phlebotomists and asking for time off might be similar for asking at a retail store, restaurant, etc. You'll have people to cover for you.
But if you're really looking for more flexibility, you can decide to become a freelance phlebotomist. This can be difficult to break into at first, especially with no experience. To get someone to hire you for single jobs here and there requires a great amount of trust and dependency, and while it happens, and can work well for people who manage to get hired often, it can also be a risk.
If you decided to give phlebotomy a try as more of a part-time career, or don't want to invest your full time into it, this could be a viable option for you. Don't be afraid to promote yourself, send out your resume and qualifications, etc., and you could become the 'go-to' phlebotomist for local clinics and practices in your area.
As a freelancer, you can also market to different businesses, including insurance companies, and even police organizations. You decide your own hours, limits, and who you want to market to, but try to think outside of the box when it comes to who might need your services, and why they should choose you over someone else, or a different phlebotomy service/team.
Phlebotomy Volunteer Options
While you may not consider it a 'job' to offer your services for volunteer work, it can be a great way to get your foot in the door with different organizations, grow your own personal experience with drawing blood and interacting with people, and of course, give you more opportunities to help people in need.
Doing a quick online search for volunteer opportunities in your area will likely bring up plenty of options for you, whether it's for a one-time event, or for an ongoing service that's always in need of quality phlebotomists to offer their services.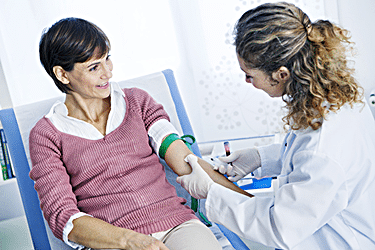 Some of the more popular organizations and institutes who could use phlebotomists regularly include things like the Red Cross, veterans hospitals, blood banks, prisons, mental health care facilities, etc. Volunteering your time and efforts to places like these not only is a great way to interact with so many different kinds of people, but it ends up looking great on a resume, and it's a great way to build up experience if a certain amount of field training is required for certain hospitals, clinics, etc.
Finding Work as a Phlebotomist
As you can see, there are plenty of different options to put your phlebotomy skills to use when you're looking for a job. It can also be a great stepping stone to other endeavors. Some people use phlebotomy as a way to eventually become a nurse, or even a physician, depending on the amount of schooling and the time it takes.
The best thing you can do once you've completed your training and certification process to become a phlebotomist is to get your name and resume out. Decide the pace and overall 'schedule' you'd have as a better fit for your lifestyle and personality, and go from there. Don't be afraid to ask questions, even if there aren't specific job postings available where you're looking. Sometimes an inquiry can lead to connecting with the right person, and eventually getting a job.
A phlebotomist can work in a variety of facilities, but the job itself remains the same, and if you have a passion for helping people, and being a part of the most cutting edge medical advancements this century is seeing, it could be a perfect job for you, no matter where you end up working.